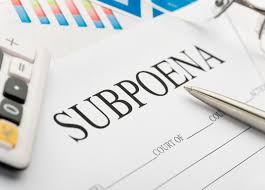 1 min read
HOW TO DOMESTICATE A SUBPOENA IN CALIFORNIA
Issuing Out-of-State Subpoenas in California: The attached links below are all the forms available for issuing an out-of-state subpoena to take jurisdiction in California. We have provided all three types of subpoenas, please choose the one that applies to your particular case.
Once you have your documents all completely filled out, there are Two Options to having the Subpoena Filed & Issued prior to Service.
Either way, you will need to create an account by clicking here. New Account Registration
1) Have us File it for you. Simply email your documents to cwprocess@gmail.com
2) You may eFile the document(s) yourself once completed if the case is to be eFiled in one of the many California Courts.
After documents have been filed with the respective court we will dispatch the service of your subpoena.
Please fill out the required forms below that are needed for your case and click here to place an order today!
Forms
Application For Discovery Subpoena in Action Pending Outside California ( The Court Charges a Filing Fee of $30.00 )
Download SUBP-030 Form Now
Subpoena For Production of Business Records in Action Pending Outside California
Download SUBP-035 Form Now
Deposition Subpoena For Personal Appearance in Action Pending Outside California
Download SUBP-040 Form Now
Deposition Subpoena For Personal Appearance & Production of Documents & Things in Action Pending Outside California
Download SUBP-045 Form Now
Attachment Form MC-25 ( Used to provide additional information that does not fit on the Subpoena of choice )
Download Form Now
Company Information
Countrywide Process, LLC
Phone: 888-962-9696
EMAIL: cwprocess@gmail.com